*This post may contain affiliate links. I only share opportunities that I truly believe will benefit my readers.
Disclosure.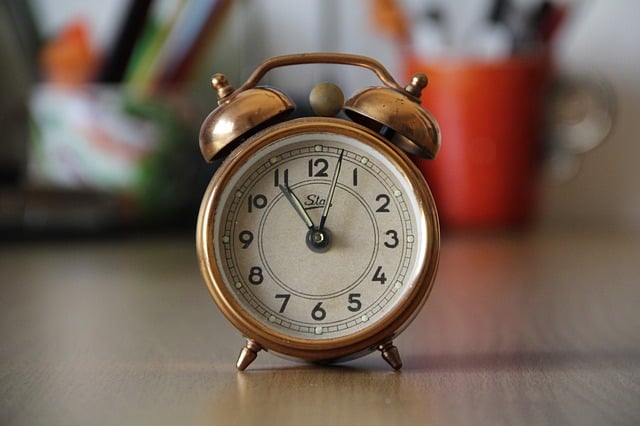 It's here! The Ultimate Productivity Bundle 2020 is available for seven days – today, January 2nd, through Wednesday, January 8th!
This bundle was created by the folks at Ultimate Bundles, and, as usual, it's a great value – 73 products with a total value of $2837.06 – yours for only $47.00! This includes 12 eBooks, 30 eCourses, 29 workbooks & printables, and 2 membership sites.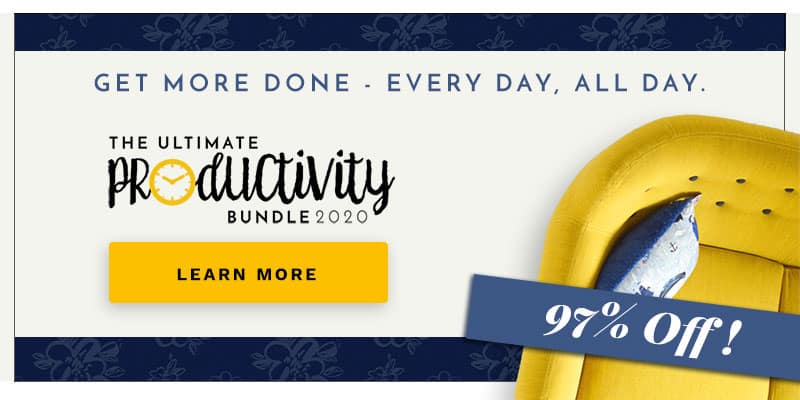 Here's just a taste of what's inside. To see everything, click the link below!
7 Days to Calm: A Simple Guide to Creating Routines that Work for You

by MaryEllen Bream (Workbook) $7.00




This easy-to-follow guide and workbook will help you identify the problem areas in your day, develop solutions for creating smooth and easy days, and set yourself up to successfully follow your personalized routines.

Your 20/20 Vision Plan: Getting Clear and Focused on What You Want, so You Can Achieve It

by Stacey Stratton (eCourse) $47.00




An online program that helps you gain clarity, stay focused and create a life you love.

Productivity Bundle Trello Tracking Board

by Kristi McMillan $9.00




Track, filter or sort every product in the 2020 Productivity Bundle, visually and with ease! 

Creating A Digital Home Management System

by Kayse Pratt (eCourse) $34.00




Learn how to take your Home Management Notebook digital – and get everything you need to set up your system in minutes!

*The Goal Crusher's Mastermind

by Brianna Berner (eCourse) $97.00

Simple strategies for magical results – only available to Early Bird purchasers.

From Procrastinating to Productive Mama: Why Moms Procrastinate and How to Get Over It!

by Amylee Udell (eCourse) $9.99




Learn why you procrastinate and how to get over it so you can get control of your household, family and life!

Mind The Chatter: Master Your Inner Voice, Gain a Positive Mindset and Get Your Power Back!

by Lise Cartwright (eBook) $5.99




Is your inner voice crushing your dreams? Stop the madness and start winning!

Change Your Life With a Planner

by Kemi Quinn (eBook) $27.00




Step by step help for customizing your perfect planner. 

Easy Organized Living Productivity Planner

by Nikol Murphy (Digital) $19.00




Helps you stay focused on what matters most and doesn't waste time with extra fluff. No more sacrificing productivity in order to stay organized and focused on building a life you love!

The 2020 Shining Mom Planner

by Khaye Mydette Macalinao (Printable) $23.00




A one-stop organizing resource for every busy mom looking for a system to keep her home, life and finances in order. It includes 100 printable resources designed to help mom manage a blissful home.

Discover Your Fulfilling Career

by Tega Edwin (eCourse)




Learn the 5 steps to discovering a career you'll thrive in.

PLAN4 2020

by Melissa Shanhun (eCourse) $67.00




Plan your business to reach your goals and fit your life in 4 simple steps.

DrivenWoman Academy: 3 Months Access

by DrivenWoman (Membership Site) $75.00




A structured online membership program and community for women with ideas and ambition who want to achieve their goals fast. 

Productive by Design: Use Brain Science to Get More Done

by James Garrett (eCourse) $197.00




Brain-based strategies that will help you supercharge your focus and dominate distraction.

Busy Woman's Daily Planner

by Susie Glennan (Printable) $34.99




An electronic, downloadable, and printable day planner for women.
As I said, this is only a portion of what's in The Ultimate Productivity Bundle 2020. The total value of the bundle is $2837.06. But for these seven days only – Tuesday, January 2nd @ 8 am ET – Wednesday, January 8th @ 11:59 pm ET, you can get the Ultimate Productivity Bundle for the low price of $47.00!
🎉 Start the New Year Right! Live More Intentionally! 🎉