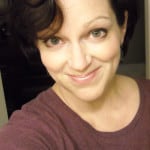 Hi!  Welcome to Work at Home Mom Revolution.  I'm the work at home mother of three beautiful girls, one a few years out of college and married, and a set of twins who are both currently in college.  I've been working at home since I got my first computer back in the '90s.
I've done a little bit of everything to make money from home, including selling on eBay, running an online used bookstore at Amazon.com, day trading stocks online, freelance writing, and publishing websites. You can read my work at home story here!
I've also written and published an ebook based on my home-based career as a general transcriptionist, which is available on Amazon.com.  It's How to Jump-Start Your Work at Home General Transcription Career: The Fast and Easy Way to Get Started.  It's filled with the tips and tricks that I've learned (often the hard way) over my decade-long career in general transcription.
I started this website, Work at Home Mom Revolution, in 2007 as a way to share work at home job opportunities with other moms.  At the time, I was a separated, single mom raising three children on my own, and working from home allowed me to be available to my girls when they really needed me most.  I wanted to encourage other moms on their path to finding work from home, and so I started this website and began posting new telecommute job opportunities daily.
I'm always thrilled when someone emails or messages me on Twitter or Facebook and tells me they've found work from home via one of my job posts.  I hope you'll stay and have a look around my site, and if you do find employment through my site, I hope you'll let me know.  It'll make my day!
Lisa Mills
Work at Home Mom Revolution
Follow me on Pinterest WorkatHomeMomRevolution
Follow me on Facebook WorkatHomeMomRevolution
Follow me on Twitter WAHMRevolution
You can also find me at Google
[wpforms id="28172″ title="true"]