*This post may contain affiliate links. I only share opportunities that I truly believe will benefit my readers.
Disclosure.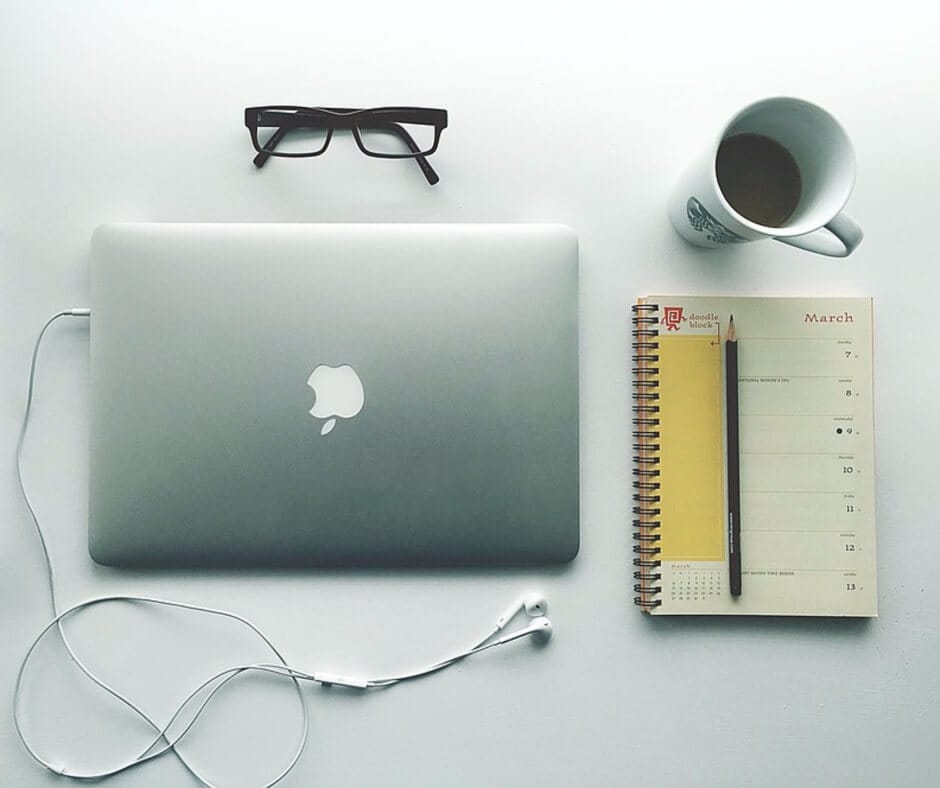 So you're thinking about starting your own money-making blog, and you're wondering if it's actually possible to earn extra money or even make a full-time income blogging.
The answer is yes. You can start your own blog and, depending on the amount of time and effort you're willing to invest, either bring in some regular extra money or generate a full-time income.
I know this because I'm currently generating a full-time income as a blogger myself!
So whether you're interested in starting a food blog, a lifestyle blog, a fashion blog, a personal finance blog – you name it – the opportunity is there for those willing to take the plunge and put in the work.
I personally know several bloggers generating six-figure incomes. And though I can't claim to be bringing in that type of income myself yet, it's definitely encouraging to know it can be done.
Believe it or not, these bloggers are ordinary people just like you. If they can do it, so can you!
Give me 15 minutes, and faster than you can wash a load of clothes, I'll have you set up with your own money-making blog, and on the way to generating your own blogging income!
Money-Making Blog Step-by-Step Instructions:
The FIRST thing you need to decide is: what will be the focus of your blog or website?
What are your interests? What do you love? What are you passionate about?  Because believe me, if you're not passionate about it, you won't be able to sustain a blog about it!
The SECOND thing is to choose hosting and set up a domain name.
~ Hosting is easy. I highly recommend Bluehost for anyone starting a blog. It's affordable and reliable service you can count on!
Bluehost has great rates. Best of all, if you decide to host your site with them, they give you your domain name for FREE! (This is a great savings in itself! It's also much easier to set up a site if your domain name is registered through your host.)
Once you're on Bluehost, click on the "Get Started Now" tab.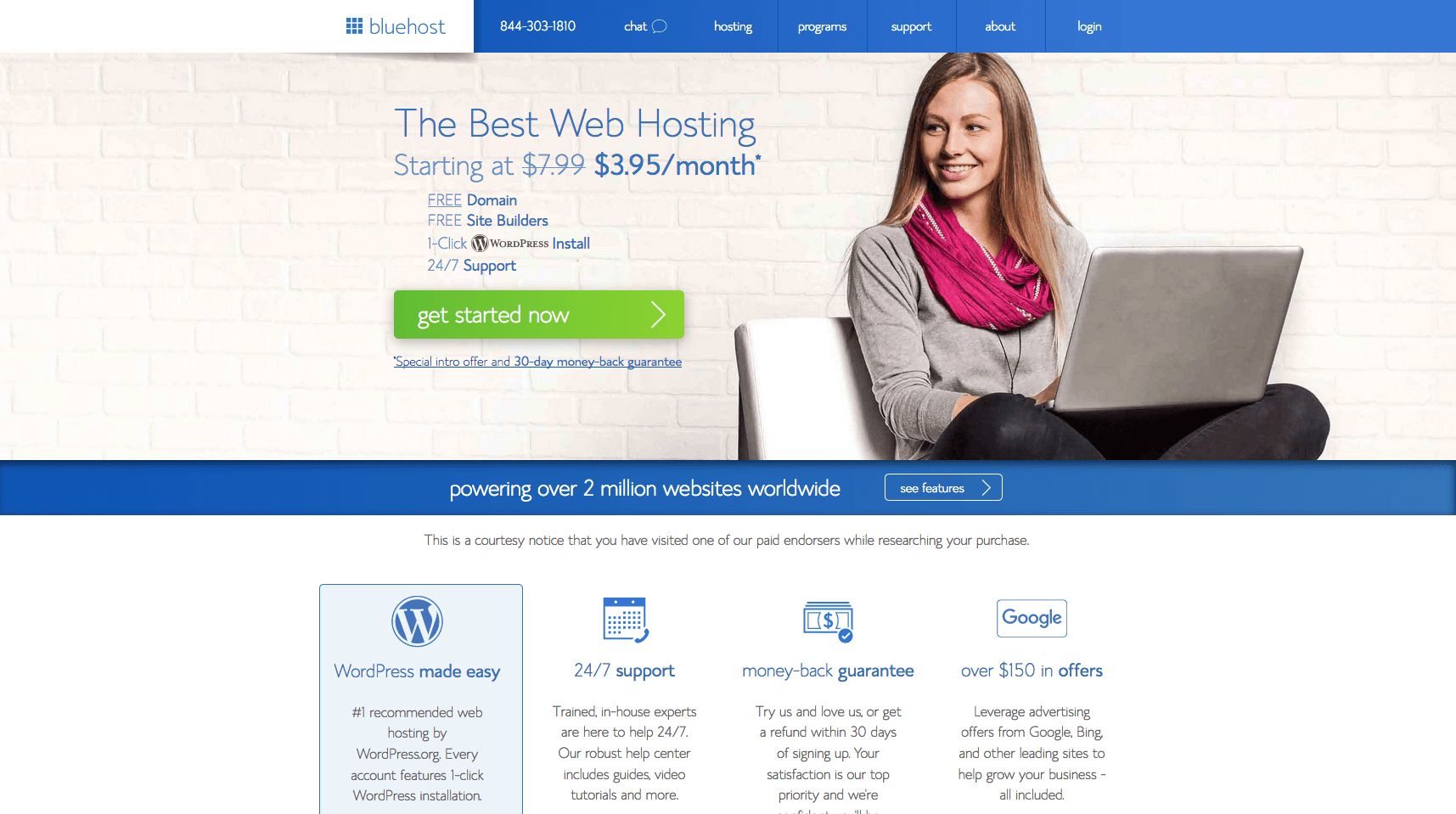 It's time to pick your package. Bluehost offers a no-risk, money-back guarantee. So if you're not completely satisfied, you're covered!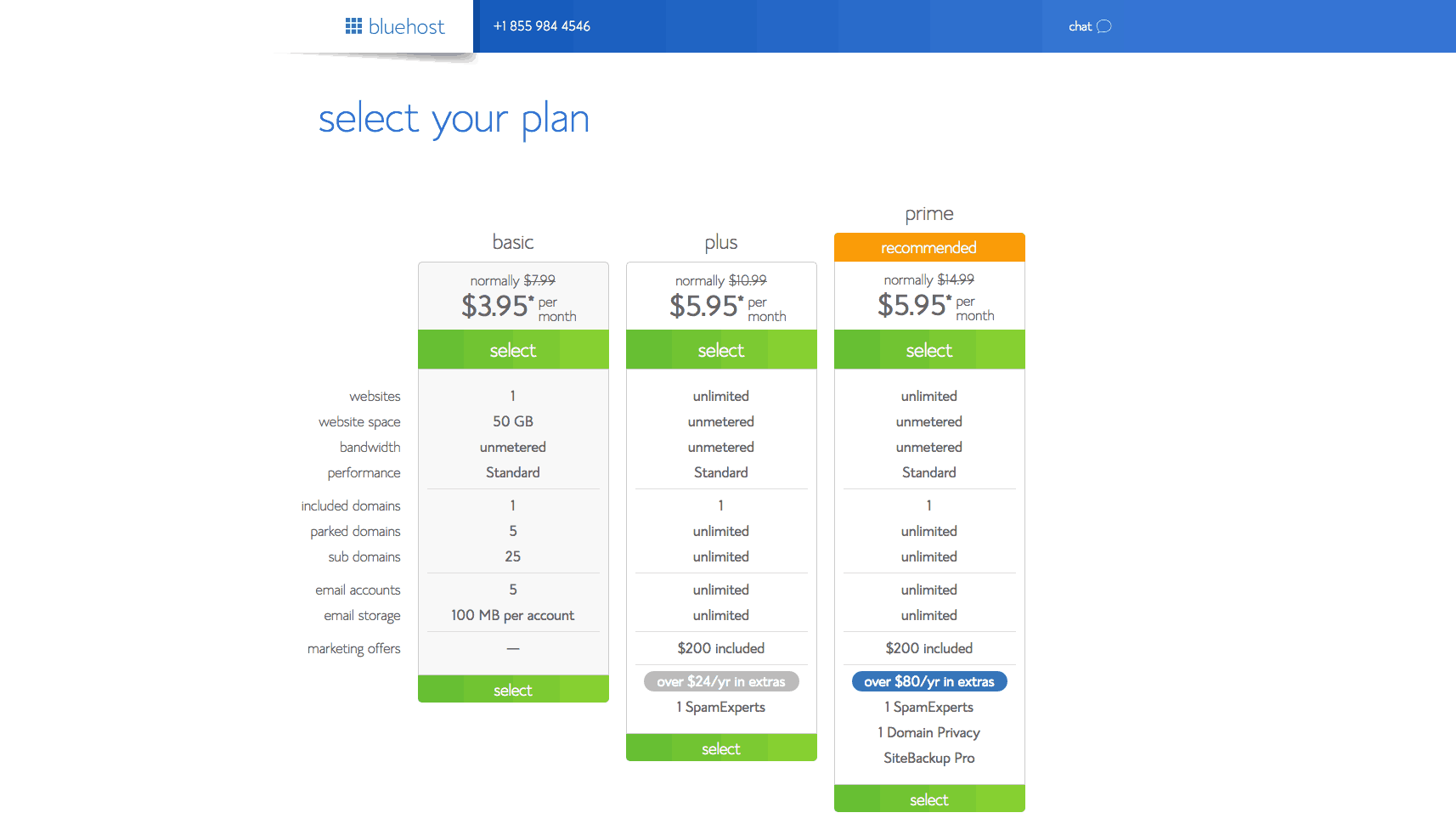 Don't worry about adding all the extras during sign-up. If you decide you want them later on, you can easily add them at that time.
You can pick your free domain name next.  You may have to try out a few different names before you find one that's available.
A word to the wise: your domain name should immediately tell readers what your blog is about. It's a best practice for attracting an audience, and it's a best practice when it comes to SEO (search engine optimization). Your blog title and tag line need to spell out exactly what your site is about. So think carefully about it.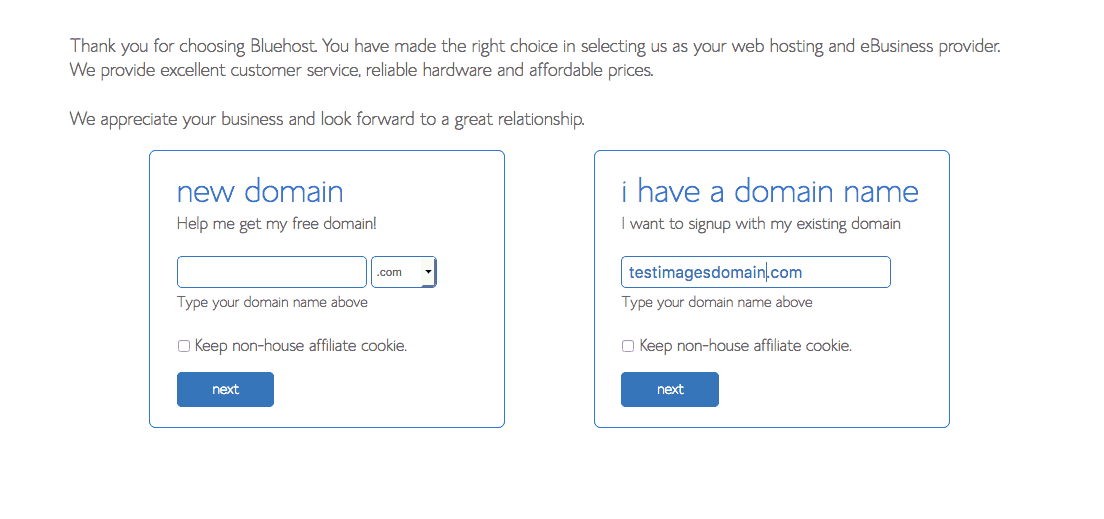 THIRD, you'll enter your account and contact information and pick your package. You'll see some optional services you can add. But there's plenty of time for that later.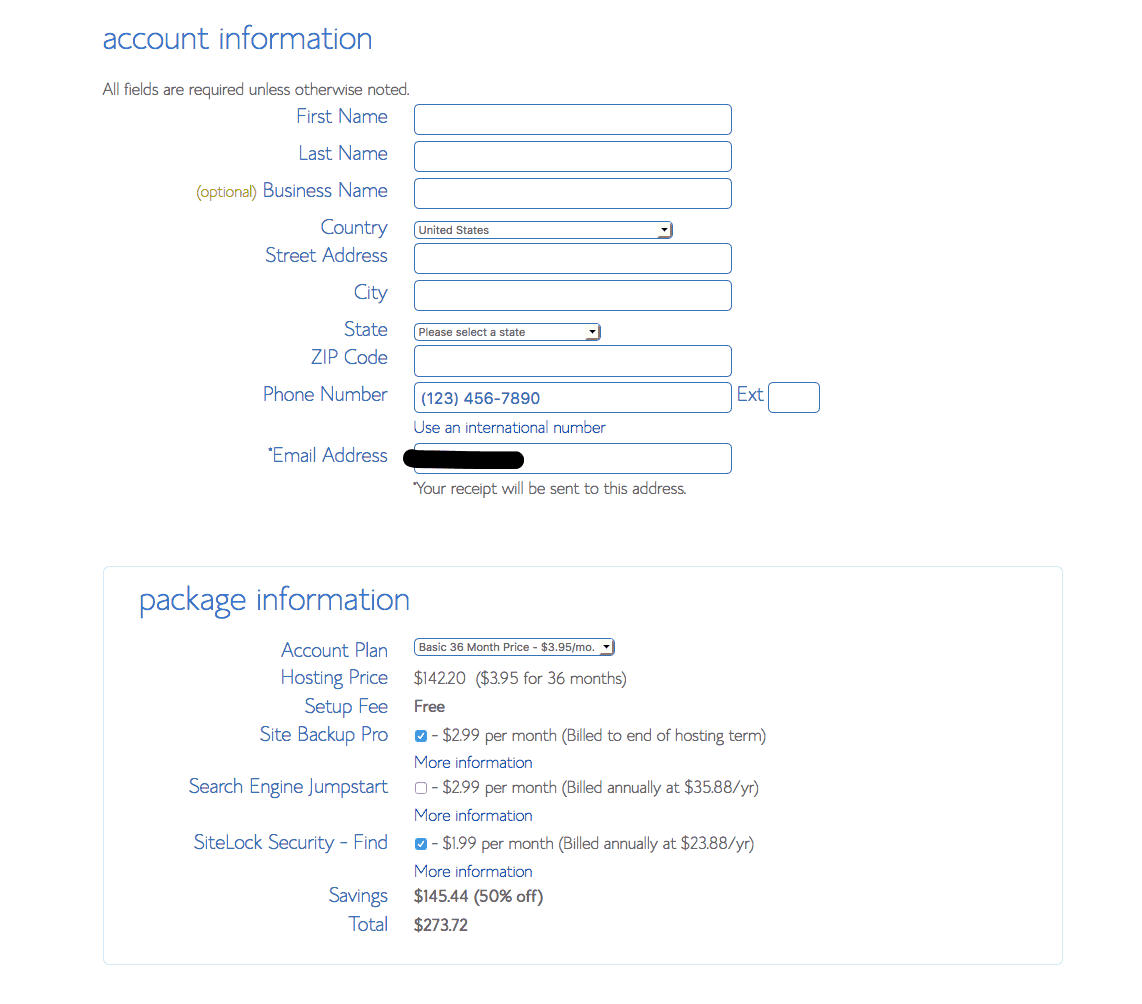 Now it's time to enter your payment information. You're almost there! Read Bluehost's terms of service and confirm. Then press "Submit."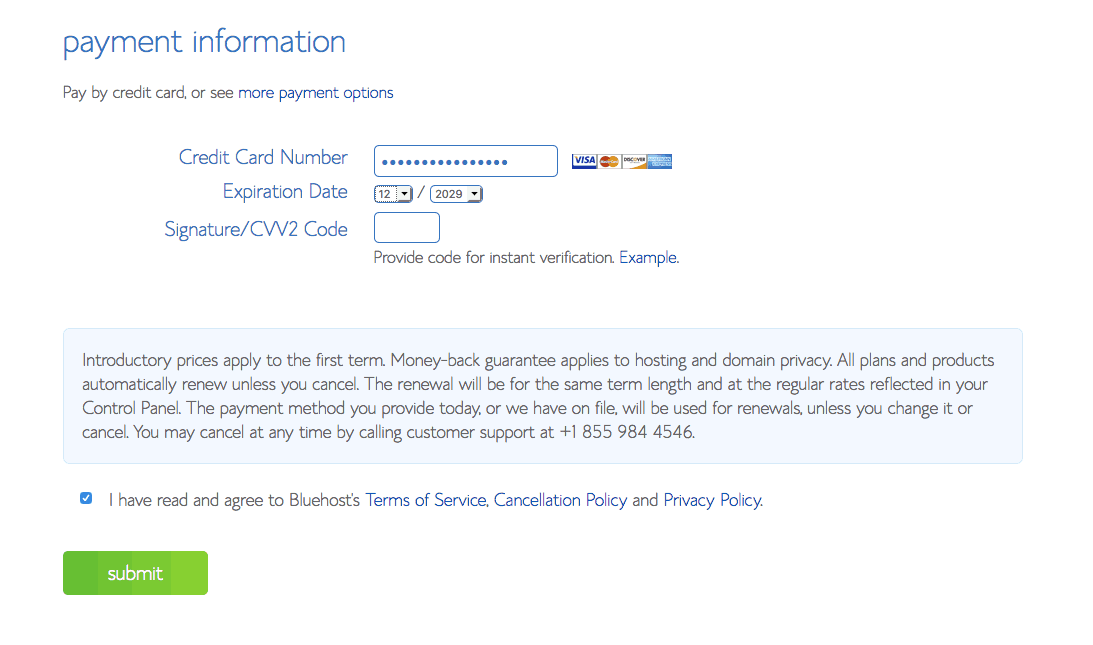 Now you have your own BlueHost account!

Click the "Create your password" button.

Now choose your password! Agree to the privacy policy and terms of service and click "Next."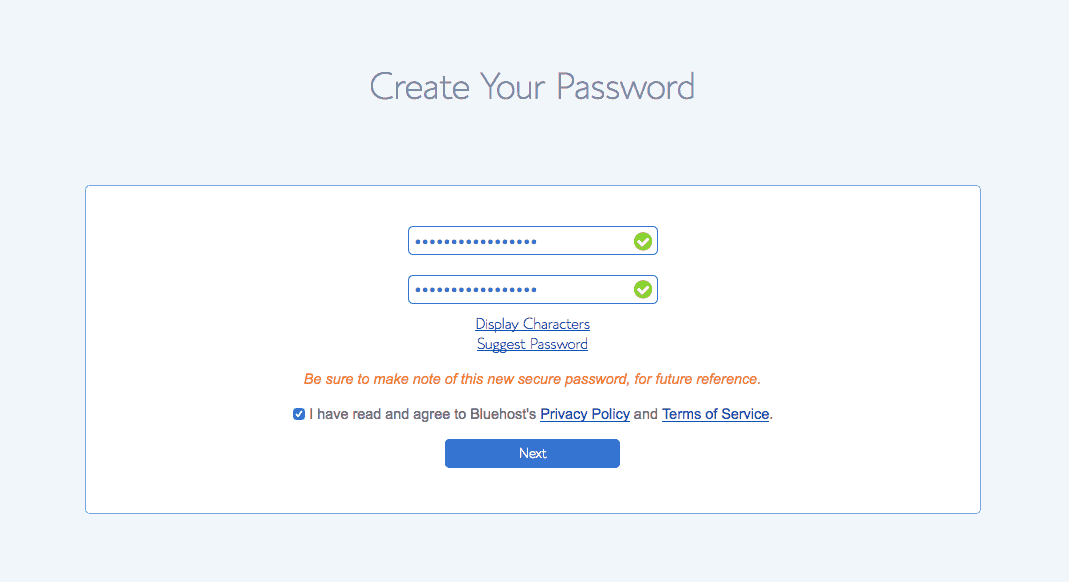 Now click "log in."

FOURTH – pick a theme you like (you can change this later – it's easy!)

You're done! Click on the WordPress "Start Building" button.

Choose the type of website/blog you want to build – business or personal.

You're in! Write your first blog post! Create a page! Set up a cart to take payments! Explore the Navigation tab! When you're ready to share your site with the world, click "Launch."

Choose your site name and description. Think carefully! Be sure the site name tells people exactly what your site is about. Ditto with the site description. When you're done, hit "Next Step."

From now on, when you log into Bluehost, this is what your dashboard will look like – click on "Log in to WordPress."

You're Done! You're now officially a publisher with your own potentially money-making blog!
You should receive an email from Bluehost with the URL of your admin page and directions for logging onto your dashboard. If, for some reason, you do not, follow these directions from Bluehost:
The default URL to login to WordPress is the same URL you would use to visit your site but with "/wp-admin" added to the end of it.
For example if I visit my WordPress website at www.example.com. I would go to www.example.com/wp-admin to access the login screen.
Your login screen should look like this. Enter your username and password. Then click "Log in."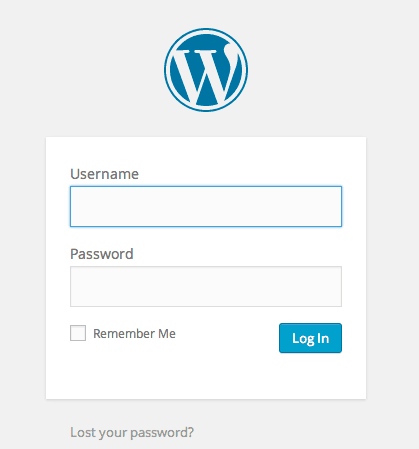 This is your dashboard! From here, you will run your entire site – upload themes, add plugins, write posts, and more!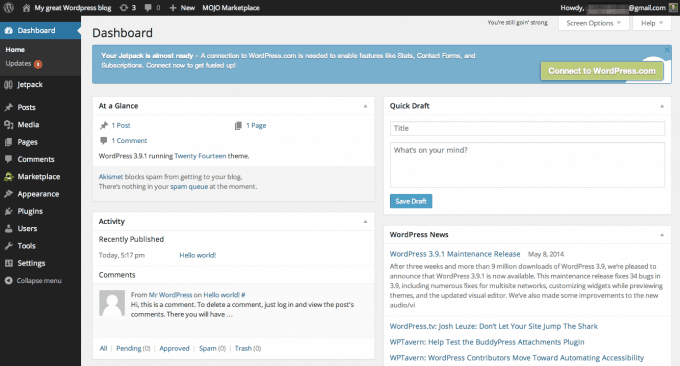 If you're serious about making money with your blog, then you need to choose a theme that's SEO friendly. That way, you'll rank high in search, and your audience will find you easily.
I use a Genesis framework child theme by Studiopress. I highly recommend going this route. Genesis is a paid framework and theme package, but well worth the investment.
There are also many free themes available across the Internet and right within your WordPress installation, if you prefer to start out with a free theme.
The reason I recommend Genesis so highly is it will make your site look professional from the start. Also, Genesis is famous for being SEO friendly, meaning Google likes it. That means your audience will have an easier time finding you! It's also more secure.
Best of all, Studiopress/Genesis is mobile-ready, meaning you won't have to pay someone to set up a mobile site for you! This is really important as more and more people access the Internet from their smart phones.
You can check out Studiopress and the full selection of Genesis themes here.
Once you've installed your theme, you're officially the publisher of a money-making blog!
IMPORTANT:Don't get overwhelmed. Take it step-by-step. Bluehost has people available to help you if you have any questions.
Finally, the FIFTH and FINAL step – Monetize:
Once you've published some content and given it time to show up in Google search, it's time to sign up with some ad networks and throw a few well-placed ads on your site.
For those just starting out, I recommend Adsense and Media.net. They're easy to sign up with, and their ads are simple to implement.
If you want to learn from an expert how to create an extremely profitable blog, then I highly recommend your taking the very affordable Making Sense of Affiliate Marketing by Michelle Schroeder-Gardner. She has affiliate marketing (the best source of income for bloggers) down to a science. She's making $100,000 a month from her blog! And she'll show you how to do it too.
Her course is extremely affordable and an excellent value. I've personally taken her course, and I can tell you I've learned so much and greatly increased my income! Learn more about Making Sense of Affiliate Marketing.
Finally, if you're interested in starting a food blog, you should definitely check out Food Blogger Pro. This course walks you step-by-step through creating a profitable food blog. It was created by the publishers of popular food blog Pinch of Yum, and it's well worth the cost if you're serious about getting a food blog started quickly and blogging for income.
Last, but not least, all successful bloggers know that making a living as a blogger depends on one thing: getting and staying organized! My Simplified Success Blog Planner will help you do just that! Whether it's post planning, setting goals, or keeping track of ad networks and affiliates, income or expenses, The Simplified Success Blog Planner will help you do it all!
The best thing about the Simplified Success Blog Planner? You can use it again and again, year after year. Since it's a digital printable (you download and print yourself), you can print it over and over. Order the pages any way you like, and only print the pages you need!
Click Here to Learn More About the Simplified Success Blog Planner!
You're done! Now keep creating great content and sharing it on social media! Who knows? You could be the next six-figure blogger!
Again, Bluehost is currently running a special on hosting – only $3.95 a month for reliable hosting with awesome support for your website! I highly recommend Bluehost to those starting out with a new blog. The price/quality can't be beat!