*This post may contain affiliate links. I only share opportunities that I truly believe will benefit my readers.
Disclosure.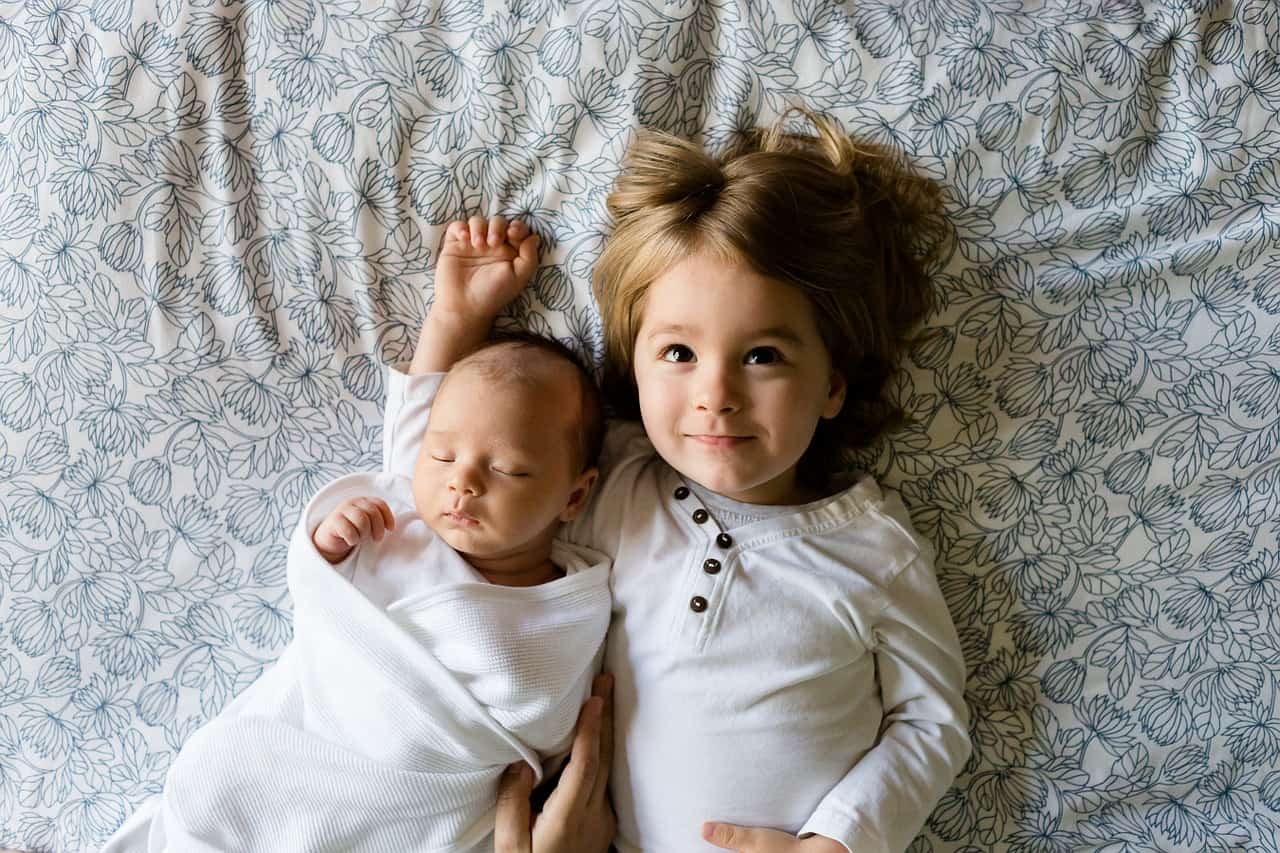 Moms, what if you could take charge of your family's health? What if you could treat your family (for pennies) with natural products from home, instead of having to run to the doctor for every little thing?
I'm not talking about medical emergencies. I'm talking about minor maladies – stomachaches, headaches, bug bites and stings, sore muscles, teething, colds, congestion.
I first became interested in herbs and essential oils a few years ago, when I was diagnosed with a rare autoimmune disease and offered a medication that costs hundreds a month and – oh, yes – might make me go blind! Thanks, but no thanks.
I immediately set out to find an alternative – something natural and affordable that wouldn't damage my body. After months of trying different things, I was successful. I now control my autoimmune disease with a natural herbal supplement that costs less than $12.00 a month.
Now I'm not suggesting you avoid the doctor when you're truly ill. What I am saying is: with the proper resources, you can treat your family's minor ailments from home and at a much lower cost!
Last year, I purchased the Herbs & Essential Oils Super Bundle, and it was one of the best purchases I've ever made. Now it's back! And if you are serious about wanting to learn how to treat your family from home, then you cannot afford to miss the Herbs & Essential Oils Super Bundle!
Inside the Herbs & Essential Oils Super Bundle, you'll find:
🌿Home & Beauty (10 products worth $81.88)
ANTI Anti-Aging Natural Skincare Guide: Amazing Skin No Matter What Your Number (

eBook) by Amanda Cook $9.99




Rediscover your best skin, no matter what your age with this natural skincare guide, including recipes to make effective products at home!

Beat the Winter Blues: Make 'n Take Guide

(eBook) by Bethany McGough $6.99




Guides you in hosting a successful party with 4 recipes to help beat those winter blues!

DIY Natural Spa Treatments: Luxurious Herbal Skincare for Face and Body

(eBook) by Stacy Karen $9.95




Create your own facial steams, face masks, body wraps, bath teas, and more for an all-natural spa experience in the comfort of your own home.

Easy Melt & Pour Soap Recipes Using Essential Oils

(eBook) by Maura White $7.00




Learn how easy it is to make custom melt and pour soaps – make 12 bars in as little as one hour!

Essential Clean Home

(eBook) by Kasey Schwartz $7.00




Teaches you how changing out store-bought cleaning products for easy DIY cleaning recipes using essential oils can make big changes in your everyday health and life!

Green Your Clean: Simple & All-Natural DIYs to Clean Your Home

(eBook) by Holly Bertone $7.99




A set of instructions for DIY non-toxic household cleaners you can easily make to help you start living a safer and greener lifestyle.

Herbal Salves, Oils, Butter & Balms

(eBook) by Heidi Villegas $10.00




Teaches you how to use healthy and safe herbs for health and beauty. You'll learn how to create beautiful herb infused oils, then turn them into wonderful skin care and health supporting salves and balms.

Make Your Own Affordable Natural Perfumes: Learn to Safely Use Custom Blended Essential Oils

(eBook) by Andrea Zahnd $9.99




Learn how to safely create your own essential oil perfumes with proper dilution rates, aroma notes and how to build your first perfume.

Natural Beauty from Head to Toe

(eBook) by Kelly Cable $6.99




Contains 21 recipes for the bath: shampoo and lotion, makeup recipes like blush and foundation, body spray recipes, facial toners, lip balm, and recipes for men like cologne and essential oil blend ideas.

The Best Homemade Cleaners

(eBook) by Julie Sellers $2.99




Learn to make homemade cleaners for the kitchen, bath, and whole house using essential oils.
🌿Herbs (11 products worth $335.94)
A Sow Simple Guide to Using Herbs for Health

(eBook) by Anne Gibson $4.97




This practical guide shares 11 easy ways to use culinary and medicinal herbs daily to benefit your health and wellbeing with simple steps and recipes.

A Year of Seasonal Herbs

(eCourse) by Kathie N. Lapcevic $47.00




Learn how to work with herbs for medicine, body products, and food in harmony with the natural seasons in which they grow.

Beginner's Guide to Herbal Medicine

(eBook) by Lauren Dibble $9.00




This book will give anyone – regardless of experience – the confidence to create and administer four different types of herbal remedies to themselves and their families.

Exploring Traditional Herbal Remedies in Mexico

(eBook) by C.E. Flores $6.99




One woman's explorations of traditional herbal remedies used in Mexico.

Growing Culinary Herbs at Home

(eCourse) by Shelle Wells $47.00




Teaches you how to grow 15 culinary herbs in your own home garden. You'll harvest them at their peak, learn to preserve them properly, and make tasty spice blends for unique meals.

Herb Crafting: 3 Top Herbs for Wellness & 18 Handcrafted Recipes

(eBook) by Stephanie Rose $4.99




Profiles three common healing herbs you can grow in your garden plus eighteen creative recipes for crafting with them.

Herbs for ADHD, Cognition, and Focus: 6 Month Intensive

(Workshop) by The Herbal Academy $39.00




With ADHD becoming an increasingly common condition in the US, this Intensive addresses this topic at the core and informs you of the many ways to use diet, lifestyle, nutrition, and herbalism to support healthy cognitive behavior and soothe discomfort.

Herbs in the Bathtub: Grow Potted Herbs Wherever you Live, in Whatever Space you Have

(eBook) by Tessa Zundel $5.00




This book will help you start that container herb garden you've been planning by helping you pick your pot, pick your herb and learn to use it in healthy culinary and wellness recipes.

Inspiring Botanical Drinks, Mixers, and Elixirs for a Healthier Summer: Healthy Beverages for Littles and Adults from the Garden and Hedgerow

(eCourse) by Christine Dalziel $147.00




Students in this class will gain the skills and confidence to turn garden produce, herbs and fruit into tasty and healthy beverages for very little cost, as well as how to preserve the summer goodness so these healthy drinks can be enjoyed year-round.

Simple Container Herb Gardens

eBook by Angi Schneider $7.99




Herbs can make fantastic container gardens that can be grown indoors or out. In Simple Container Herb Gardens find out which 12 herbs grow well in containers and how to grow them.

Ten Herbs at Home: For Cooking, Cleaning, Fragrance, Bathing and More

(eBook) by Karon Grieve $17.00




Teaches you everything you need to know about using herbs at home from cooking to cleaning and so much more, with fun videos too.
🌿Natural Remedies (10 products worth $127.37)
CBD: Just the Facts! An Evidence Based Approach to CBD Use

(eBook) by Kristyn Bango $10.00




Kristyn wants you to be able to sort through the conflicting information on CBD with the facts from an evidence-based approach.

Cold + Flu Season: Are YOU Ready?

(eBook) by Carol Little R.H. $7.95




Carol shares ideas to help you to increase your personal self-reliance and knowledge to help family members with effective, herb-infused remedies to both boost immunity and prevent and treat cold + flu issues throughout the year.

First Aid Essential Oils for Mothers and Children

(eBook) by Kim Morrison $14.50




An easy touch point for all Mums who want to use essential oils in combination with their child's innate ability to heal from everyday ailments and illnesses.

Herbal Remedies for Cold and Flu

(eBook) by Natalie Vickery $12.00




Natalie will not only show you ways to nourish and build the body to prevent illness but also deal with the symptoms associated with colds or the flu.

Herbal Remedy Recipes: 10 Of The Most Common Childhood Ailments

(eBook) by Meagan Visser $8.99

Will help you learn how to use time tested, effective herbal remedies safely when your children experience common childhood ailments.
Homemade Herbal Bug Spray: Four Recipes for a Safe Summer Outdoors

(eBook) by Lori Valentine Rose $8.00




Because every kid deserves a safe summer full of outdoor fun, this eBook has 4 homemade, all-natural, herbal bug repellent remedies to keep you and your kids safe and bug-free all summer, and instructions on how to choose a safe store-bought spray!

More Than Weeds: 5 Common Plants to Forage for Food and Home Remedies

(eCourse) by Susan Vinskofski $12.00




Wildcrafter Susan will walk alongside hesitant foragers as they gain the confidence to identify, harvest, and use several common weeds in delicious, nourishing recipes, and safe, effective home remedies.

Natural Remedies for the Fall: Preparing for the Cold and Flu Season

(eBook) by Elaine Sheff $3.99




Learn how to use herbs and essential oils to help you stay healthy through the cold and flu season.

The Healing Powers of Tea

(eCourse) by Rosalee de la Foret $39.99




Explore the art of making herbal teas so that you can confidently rely on these natural remedies for your every day health care needs.

The Minimalist Natural Medicine Cabinet: Creating a Small Collection of Remedies to Meet Common Household Needs

(eBook) by Kristen Smith $9.95




Learn how to create a small collection of versatile, convenient remedies that will help you meet most of the wellness and first-aid needs in your home.
🌿Essential Oils (9 products worth $155.95)
75+ Simple Essential Oil Recipes for the Whole Family

(eBook) by Reeni Geiser $14.99




Learn how to create simple, non-toxic solutions for the whole family!

A Smart Guide to Your Essential Oils: How to Decide for Yourself Which Oils you Need and When You Need Them

(eBook) by Sam Howard $9.99




It's a ton of juicy information from experts and recognised aromatherapists, organised as a reference guide, arming you with the 'know-how' to upgrade to a 21st Century pharmacy!

Aromatherapy Foundational Concepts

(eCourse) by Deanna Russell $75.00




Get started using essential oils quickly, safely and effectively.

Essential Oils for Women's Health

(eBook) by Rachel Silves $9.99




Discover how essential oils can be used safely and effectively in the management of common women's health concerns.

Essential Oil Diffuser Recipes

(eBook) by Pam Farley $7.99




Recipes for every part of your day.

Essential Oil Safety Cards: The Home & Family Set

(Printable) by Kresha Faber $21.00




Makes it easy and convenient to reference oh-so-important safety information about 30 essential oils commonly used around the home.

Essential Oil Safety Sheets for Breastfeeding, Pregnancy, & Kids

(Printable) by Sarah Josey $5.00




Three easy to reference sheets of essential oil safety specifically during pregnancy, breastfeeding, and with young kids.

Simple Diffuser Blend Reference Cards

(Printable) by Amy Bowman $6.00




25 different recipe formula reference cards to keep right at your fingertips and use over and over again using just 10 common and affordable oils.

The Ultimate Essential Oils Binder

(Printable) by Laura Rizer $5.99




A flexible printable essential oils binder set for oils inventory, blends, DIY recipes, and more.
🌿BONUSES
Flash Sale Bonuses: 3 items worth $51.74

The Oil Collection: FREE Essential Oil Diffuser Earrings (worth $19.99)


The Oil Collection diffuser jewelry allows you to diffuse wherever you go. Enjoy original designs, classic styles, and hypo-allergenic jewelry for your essential oils. Every piece is beautifully packaged and comes with a satisfaction guarantee. No one will know you are diffusing when you wear jewelry from The Oil Collection. 

MadeOn: Cocoa Orange Lotion Bar & Peppermint Lip Balm (worth $16.75)


MadeOn offers effective, natural skin care in as few ingredients necessary to get the job done. The owner, Renee Harris, started the business 10 years ago when she fixed her extreme dry skin with a handmade 3-ingredient lotion bar and found the same ingredients managed her son's seasonal eczema.  Through the creative blending of ingredients such as shea butter, beeswax, coconut oil, cocoa butter, zinc oxide and more, the Harris family has created products to help all types of family skin concerns. 

Puro Co: Gift Card (worth $15.00)


Puro Co. is a fresh and unique Pennsylvania based, small batch, body care company established in 2007 by Kristyn Bango. Puro Co. believes that what you put on your skin is just as important as what you put in your body. Kristyn is a Certified Clinical Aromatherapist, Herbalist, Dietary Supplement Specialist. She has a love for herbs, essential oils, health and natural living that was all born from her love of creating natural products. Every product at Puro Co. is formulated and handcrafted by Kristyn with love and the hope that it will bring joy and healing to her customers.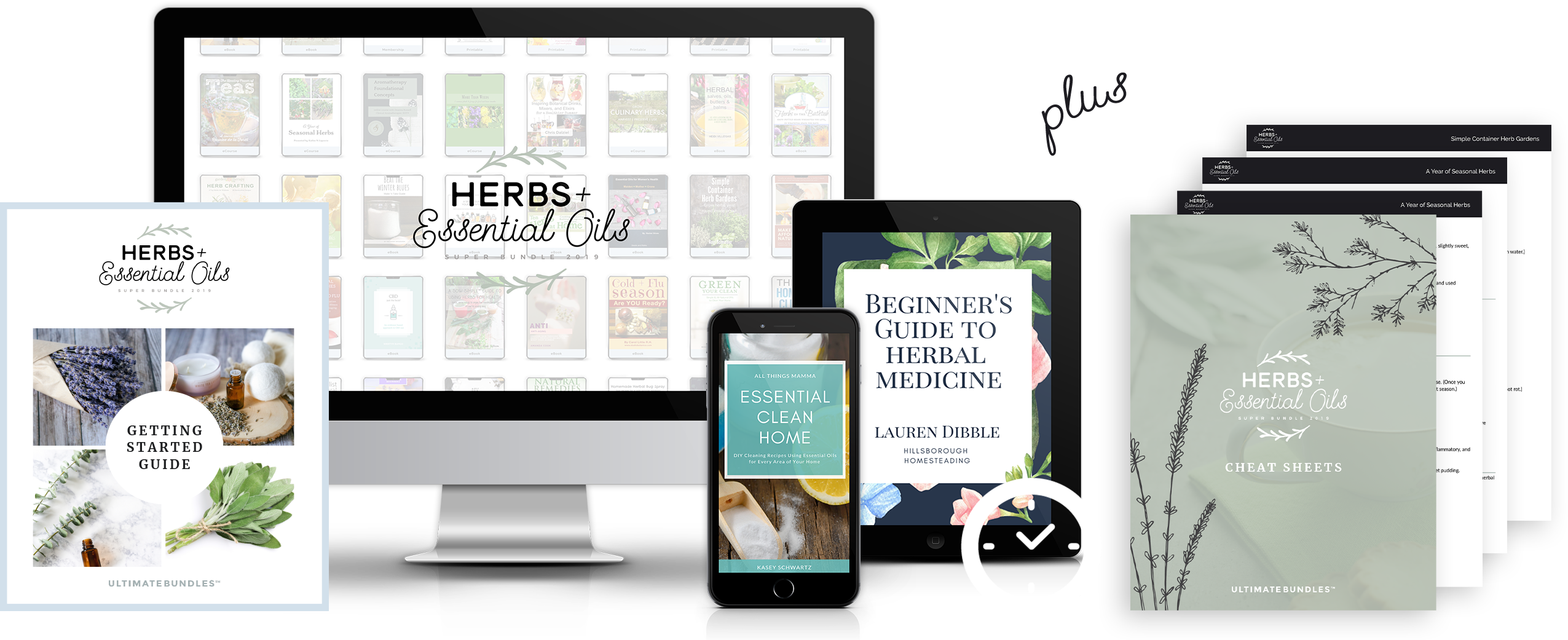 From the Bundle's creators:
"These top-quality resources cover everything you need to give you the skills and confidence to start using natural remedies in your home."
You'll get a complete library to help you:
Rebuild your medicine cabinet with natural remedies
Create beauty and skincare products without harmful ingredients
Treat your digestive complaints, pain, colds, and flus with everything in your medicine cabinet
Preserve, harvest, and cook with healing herbs
Discover the cancer-sugar connection and take back control of your health
Boost your mood, heat up the romance, and increase mental clarity with essential oil blends
Liven up your meals and get major health benefits by using the right herbs
and so much more!
Get Your Herbs & Essential Oils
Super Bundle Today!

****************************************************************************************************