*This post may contain affiliate links. I only share opportunities that I truly believe will benefit my readers.
Disclosure.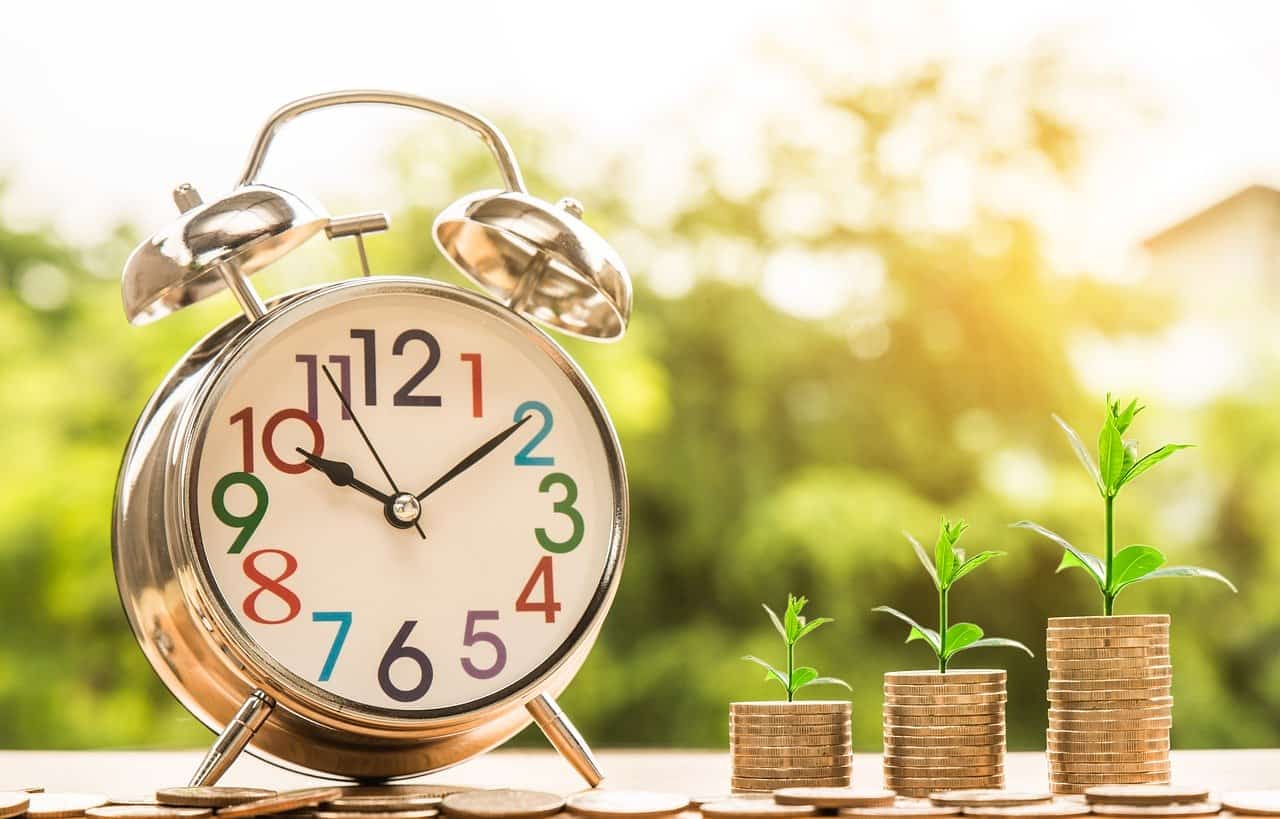 Back by popular demand! The Master Your Money Super Bundle is back for three days! Whether you're a work at home mom or you work out in the world, financial independence can only happen when you become the boss of your money.
Ask yourself this question: how might your life change for the better if you could gain control over your finances? How might your life improve? How might it affect your children's future?
Imagine living stress-free, secure in the knowledge that you are prepared for an emergency, able to cover your bills, and have extra money to put aside. This bundle, with resources from some of the biggest names in personal finance, will help you to do just this!
I'm excited to share that the Master Your Money Super Bundle, from Ultimate Bundles, is back, and it's amazing!
The Master Your Money Super Bundle, which includes 9 eBooks, 27 eCourses, & 15 Workbooks and Printables, will only be on sale until Thursday December 16th @ 11:59pm ET. The value of the bundle is $3056.81, but during the sale, you can get all these resources for only $67!
Debt Management
(6 resources worth $302.48)
D.E.B.T Free: Financial Independence Made Simple

by Marcus Garrett (eCourse) $197.00
From the Kindle bestselling author of Debt Free or Die Trying, learn how to quickly calculate and reach financial independence.
Debt Free Wannabe

by Cassie Pipp (Printable) $4.00
Step-By-Step instructions to help you organize your finances, build a strong budget, and start paying off your debt faster than you ever thought possible!
Debt Payoff Take Off

by Shannon Cairns (eCourse) $67
Learn to budget, cut your expenses, and create a debt pay off plan that works!
Debt Snowball Calculator

by Merilee Speigner (eCourse) $16.99 
Calculate how soon you can be debt-free with complete customization like you've never seen before!
Personal Money Management

by Jennifer Landsberger (eBook) $7.50
This product doesn't just tell you how to fix your finances. It includes worksheets to help you transform your life. It's not just an eBook…it includes printables to apply the knowledge.
The Debt Denominator: How to Dig Deep Beyond the Surface to Divorce Your Debt

by Imani Hamilton (eBook) $9.99
A step-by-step strategy with biblical context to help you navigate your road to debt freedom
Family Finances
(8 resources worth $424.92)
5 Steps to Successful Money Management PLUS Bonus Homebuying and Selling Guide

by Dorethia Kelly (eCourse) $197.00
Learn successful money management habits you can stick to that will allow you to have the financial freedom you desire.
A Practical Mama's Roadmap to Budgeting for Baby

by Kim Nissen (Printable) $13.00
A budgeting workbook designed to make budgeting for a baby so much easier.
Guide to Budgeting for RV Vacations

by Julie Chickery (eCourse) $25.00
This guide will help you build memories that will last a lifetime without breaking the bank.
Marriage & Money Masterclass – Weekly Money Meetings That WORK

by Caroline Vencil (eCourse) $47.00
End the money fights now & change the way you work on marriage and money with your spouse.
Money Saving Planner for Kids

by Suchot Sunday (Printable) $9.97
Learn how to teach kids of all ages how to budget, save money, invest money, donate money, and more with this printable Budget Planner for Kids!
My First Budget Binder – Money Master Training System

by Jessica Evans (Printable) $14.97
Help your kids start their financial journey off the right way with all of the essential tools needed to succeed using this easy-to-print system.
Talk Money to Me Honey: The Ultimate Guide to Help Couples Better Communicate About Money

by Danielle Davis (eBook) $19.00
Ready to stop fighting with your spouse about money? Learn 7 quick strategies to help you end money conflict, start feeling more empowered and get rid of unnecessary financial stress and anxiety.
Teach Your Child to Fish: How To Raise Money Smart Adults

by Holly Reid, CPA (eCourse) $99.00
Your guide to become your child's first financial advisor.
Increasing Income
(7 resources worth $511.00)
Family Traveler's Guide to Location Independent Income

by Susan Whitehead (eCourse) $297
Your resource for creating lifestyle freedom.
Help! Broke and Need Money Now?

by Dr. Sherry Y. Smith (eBook) $27
Strategies to help you get out of the Bondage of Broke so that you can live the life you desire and deserve. 
How to Make Extra Money on the Side Without Spending All Your Spare Time Working

by Dustin Riechmann (eCourse) $29.00 
Discover how to make more money for your family with a passive income business…without spending your precious spare time working.
Mastering The 7 Streams of Income

by Talaat and Tai McNeely (eCourse) $47
Learn the 7 Streams of Income and Why Having Just One Stream Is Like Having None
Quick Start Guide To Selling On Ebay

by Rob Stephenson (eBook) $27.00
Start Making An Extra Income By Selling On Ebay TODAY!
Start A Money-Making Blog In A Weekend: The quick start course to get up and running in 48 hours

by Kristen Miller (eCourse) $37.00
Cut out the overwhelm of your new online homebase, aka your blog, with this get-it-done-in-a-weekend course.
Succeeding with Side Hustles

by Liz Stapleton (eCourse) $47
Finding the right side hustle can mean the difference between more money in the bank and burn out.
Investing
(4 resources worth $600.99)
The Beginner's Guide To Investing VIP Bundle

by Nikki Ramskill (eCourse) $100.00
This bundle will help you to learn how to invest in stock market funds and think like a successful stock market investor.
Happy Investing Boot Camp

by Angela E. Matthews (eCourse) $ Coming Soon
Learn how to invest in the stock market in 5 days or less!
REIT Investing – How to Build Dividend Income with Real Estate

by Andre Albritton (eCourse) $199.00
The perfect course that teaches how to create passive income with REITs and start making money work for you!
The 4% Rule

by Todd Tresidder (eBook) $4.99
The knowledge contained in this book will help you remove the uncertainty around retirement savings and deepen your understanding of strategies other than the 4% rule so you can retire worry-free.
Money Mindset
(7 resources worth $723.96)
28 Days to Financial Freedom Bootcamp

by JJ Conway (eCourse) $99.00
Stop stressing about money and start living in abundance.
From Surviving Financial Abuse To Living Financially Free: A Guide For Relying On God To Regain A Foothold On Your Finances

by Elizabeth Anne (eCourse) $47.00
This course teaches what financial abuse is and how to rely on God to recover from it.
Managing Money with Intention

by Anjie & RJ (Printable) $19.97
This is a guide that will help families be intentional with their money and change their legacy one dollar at a time.
Money Bitch Bootcamp: Become the ultimate #MONEYBITCH learn all you need to know about building wealth, your finances + finding Financial Freedom!

by Nicholle Overkamp (eCourse) $497.00
Learn how to build wealth, get a plan for your money and take the reigns to become your own financial PowHERhouse!
The Abundant Life: Earning & Saving Money Series

by Nicole Rule (eCourse) $39.00
10 of the BEST sessions from the Abundant Life Summit 2020 have been bundled together (including a one page cheat sheet for each session) to move you forward in personalizing your journey towards financial freedom! May you live a truly abundant life!
The Illustrated Guide to Financial Independence

by Larry Faulkner (eBook) $6.99
Step-by-step strategies (or "stair steps") that help you build a strong financial framework. Additionally, each chapter in the book is also summarized with illustrations.
The Late Starter to FIRE Action Plan

by

Latestarterfire (Printable) $20.00
The ultimate starter guide for beginning your financial independence and retire early(ish) journey in your 40s and 50s.
Saving
(10 resources worth $271.00)
99 Ways To Save Money As A Student

by Zsuzsanna Toth (eBook) $29
This eBook will give you 99 ways to save money as a student, from simple tweaks to bigger life choices.
200+ Easy Ways to Save Money Everyday

by Ashley Patrick (eBook) $5.00
Easy ways to save money everyday without going extreme!
Christmas Budget Planner: Budget Your Way to a Stress-Free Christmas

by Lisa Sharp (Printable) $5.00
An easy to use printable planner to help you budget and save for a stress-free Christmas.
How to get $1,000 in savings in 30 days!

By Lauren Greutman (eCourse) $39.00
A Step-by-Step Strategy to have $1,000 in savings in 30 days!
How to Make a Meal Plan That Works For You

by Megan Barrett (Printable) $12.00
This meal planning workbook gives you a simple step-by-step system to help you work meal planning into your life, in a way that works for you.
Mega Savings Mini-Course: Save with Sacrificing

by Joanna Griffin (eCourse) $75.00
Save money fast by focusing on the areas of your budget that will give you the biggest bang for your buck- no willpower needed.
Stop The Swipe: How To Conquer Impulse Spending For Good

by Allison Baggerly (eCourse) $47.00
Finally take back control of your money and stop impulse shopping for good.
The Freebie Guide: How to Get Free Stuff You'll Actually Want!

by Kari Cullen (eCourse) $17.00
Guides you through all the ways you can get free stuff.
The Grocery Savings PowerPack

by Amanda Teixeira (eCourse) $27.00
Wallet Win's best food and grocery-related videos, tools, and interviews to help you tame your grocery spending and combat rising costs.
The Savings Hacks Bible

by Frances Vidakovic (eCourse) $15.00
365 Ways To Keep More Money In Your Pocket
Tracking & Organization
(9 resources worth $217.44)
Begin to Budget Bundle

by Kristin Stones (Printable) $29.00
A super simple method of managing your money that will help you stay on top of your bills, save money, pay off debt, and finally stick to your budget without feeling restricted.
Budget Binder

by Jennifer Landsberger (Printable) $7.5

0
Printable budgeting binder with 150+ pages to help you with everything from setting goals to deciding a budget and finally reaching those goals.
Financial Victory Binder

by Elise New (Printable) $37.00
Save, budget, and organize your finances for ultimate success.
Master your Money 2021 Trello Tracking Board

by Kristi @ Paperless Boss (eCourse) $12.00
Want to track all of your bundle products DIGITALLY? Now you can with the bundle tracking board.
My Budget Binder

by Megan Nye (Printable) $22.00
This all-in-one budgeting system includes everything you need to create a comprehensive budget, stick to your plan, track your progress, and reach your financial goals!
Organized Home & Money Checklists

by Jennifer Roskamp (eCourse) $19.00
Get your home & money in order with these simple checklists – fully editable or use as is!
Personal Financial Tracker Planner Pages

by Tameeka Leon (Printable) $15.95
Financial goals can feel overwhelming, use these pages to put your plan on paper and gain the clarity you need to make things happen!
The Making Cents Count Financial Organizer

by Karen Burhoe (Printable) $47.00
Snag the Financial Organizer that Gives You the Exact To-Dos from Budgeting to Estate Planning.  Templates, checklists, and reference guides with step-by-step actions.  Insights on the financial must-haves to build a secure future, and results that fit 'your' lifestyle…
Ultimate Financial Planner 2021

by Dee from consciousdebtfreelife blog (Printable) $27.99
This financial planner makes it Easy to Save Money, Pay-off Debt, and Stay within Your Budget in 2021. Blank templates can be printed multiple times for your home, small business and home-school.
BONUSES
It'$ My Money Journal from P. Dixon Consulting, LLC worth $14.95
Dixon Consulting provides financial coaching and education workshops and resources to individuals of all ages. Most are done under its trademark brand It'$ My Money®.
14 day extended trial membership from WalletWin LLC worth $99.00
WalletWin is a personal finance company that helps young professionals and families gain control of their money so they can get out of debt, save, and change the world through generosity. Most people were never taught how to handle their money, resulting in money tension and financial stress as the backdrop of their lives. WalletWin helps everyday people (regardless of their income) turn money from a source of worry into a source of peace.
60 day access to W.I.S.E. Financial Fitness Level 4 from Pocket of Money worth $50.00
Pocket of Money provides information and resources for individuals and businesses ready to make significant progress towards financial success. This is achieved with consulting, courses, training, and resources that help others take control of their money.
3 Month Membership of the Smart Side Hustle Society from SilverPeak Development worth $150.00
The Smart Side Hustle Society helps career professionals create and scale Side Hustles that complement their day job, supplement their income and don't compromise their lifestyle. SilverPeak Development supports clients through coaching, memberships, and our podcast, the Got Side Hustle show.
****************
This bundle is an incredible value at only $67! And it's backed by a 30-day Happiness Guarantee! But it's only available until Thursday December 16th @ 11:59pm ET. Don't miss this opportunity! Go see for yourself all that's included in the bundle!
Only 3 Days! Don't Miss Out!