*This post may contain affiliate links. I only share opportunities that I truly believe will benefit my readers.
Disclosure.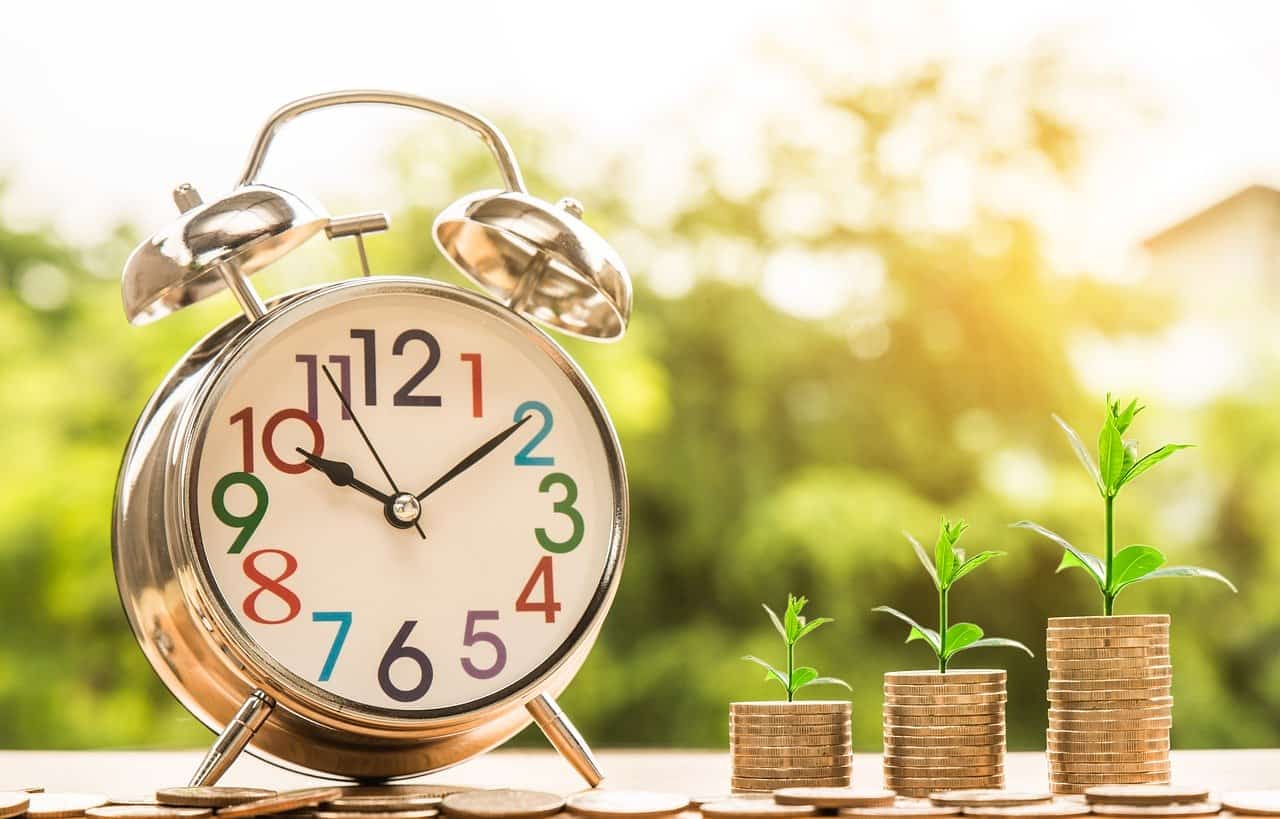 Back by popular demand! The Master Your Money Super Bundle is back for two days! Whether you're a work at home mom or you work out in the world, financial independence can only happen when you become the boss of your money.
Ask yourself this question: how might your life change for the better if you could gain control over your finances? How might your life improve? How might it affect your children's future?
Imagine living stress-free, secure in the knowledge that you are prepared for an emergency, able to cover your bills, and have extra money to put aside. This bundle, with resources from some of the biggest names in personal finance, will help you to do just this!
I'm excited to share that the Master Your Money Super Bundle, from Ultimate Bundles, is back, and it's amazing!
The Master Your Money Super Bundle, which includes 8 eBooks, 17 eCourses, 13 workbooks & printables, will only be on sale until Thursday, April 22nd, at 11:59 EST (The cart opens at 8:00 a.m. this morning).  The value of the bundle is $1,712.94 (plus bonuses!), but during the sale, you can get all these resources for only $37!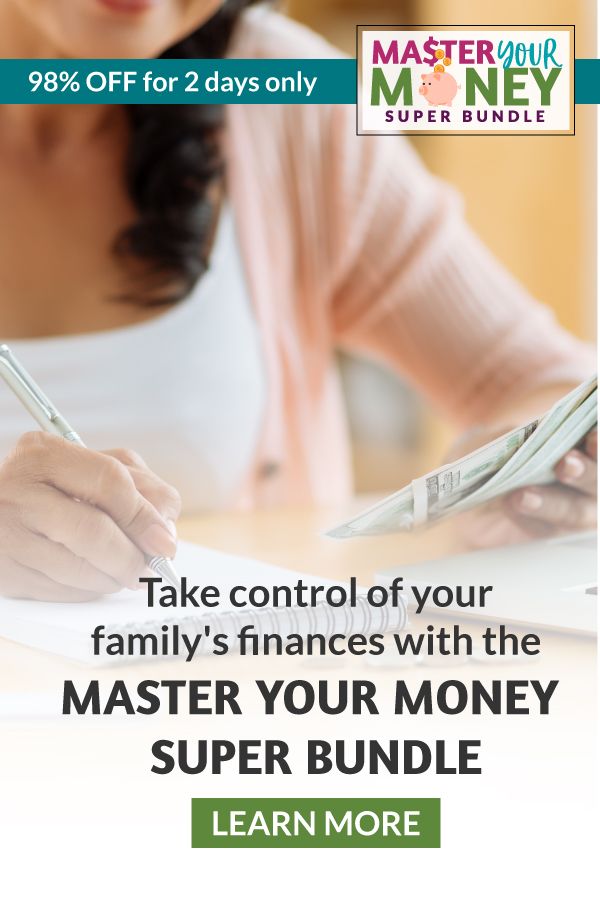 Here's what's inside:
Better Budgeting
10 Steps to a Brilliant Budget

(eCourse) by Jennifer Roskamp $19.00




A thorough, step-by-step walkthrough of everything you need to take into account to create a complete & accurate budget.

Budget 101: Learn How To Write A Budget That Works

(eCourse) by Allison Baggerly $7.00




Budgeting doesn't have to be difficult. Budget 101 breaks down budgeting so it's doable!

Cash Envelope System

(Printable) by Bridget Jo $7.00




A system to help you keep your budget in check.

Destination Financial Freedom

(Printable) by Jacob Wade $17.00




Includes all the tools you need to stop worrying about money and start enjoying more freedom!

Dollars that Make Sense: Budgeting for Biweekly Paychecks

(eBook) by

Kristen Wilkinson $32.00




A budgeting workbook focused on helping biweekly paycheck budgeters simplify and organize their money.

How to Set a Realistic Grocery Budget That You Can Stick To

(eBook) by Charissa Quade $11.99




This eBook is not about eating cheap, unhealthy food, it's about making your grocery budget easy to stick to so you can feed your family how you want.

The 2021 Budget Binder

(Printable) by Kaitlin Stearns $12.00




Finally take control of your money this year!
Defeat Debt
4 Money Mistakes that Leave Couples Strained and Drained – And How to Fix Them Without Fighting

(eCourse) by Amanda Teixeira $27.00




This guide will help you examine your relationship with money, create clear financial goals, and work towards them together in your marriage, united in your journey to a brighter future.

Crush Your Debt

(Workbook) by Ashley Patrick $12.00




Create a simple plan to pay off your debt faster and easier! 

Debt Pay Off Planner

(Printable) by Shannon Cairns $17.00




A printable planner that helps you set goals and create a debt pay off plan that works!

Destroy Your Debt

(Workbook) by Cassie & David $15.00




Are you ready to live debt free? It's time to destroy your debt!

Smash Debt: A Quick-Start Guide for Your Debt-Free Journey

(eBook) by

Stephanie Jones $4.99




Stop procrastinating and finally create a plan for debt freedom.

The Ultimate Debt Free Roadmap Workbook: Your Step by Step Debt Free Plan

(Workbook) by Amanda Waterston $11.00




Will help you break down your big financial goals into actionable steps, create your custom debt-free plan, and know exactly what steps to take to become debt-free.

Your Credit Blueprint (eCourse) by Anthony Gaalaas $197.00
Discover how to improve your credit score.
Grow Your Income
25 Ways To Side Hustle to Success

(eBook) by Kristin Larsen $9.99




Grab this list of side hustles you can do in your spare time.

Become a Money Saving Pro: Learn the Money Saving Secrets of the Pro's!

(eCourse) by Kari Ann $47.00




Will help you cut your daily and monthly expenses significantly.

Beyond the Budget

(eCourse) by Nicole Hatcher $97.00




A signature step-by-step framework to help you command your money, move beyond the budget, and build lasting wealth.

Cashflow Queen: Build Your Wealth Engine

(eCourse) by Caroline Yuki $397.00




Redesign the way you think, live, and make money decisions to create the life you want.

How to Make an Extra $1,000 per Month for Your Family… Sharing What You Already Know Online

(eCourse) by Dustin & Bethany Riechmann $29.00




Learn how to start a simple online business that will bless your family with extra freedom, fun & money.

Side Business Starter Kit: 10 Simple Side Business Ideas

(eBook) by Jen Smith $27.00




You don't need to be an entrepreneur or quit your full-time job to have a sustainable side business. Get over your fears and start gaining income freedom in five steps.

Side Hustles That Work

(eCourse) by Caroline Vencil $97.00




Do what you love and make more than you knew you could.

The Abundant Life: Earning and Saving Money Series

(eCourse) by Nicole Rule $39.00




10 video sessions and cheat sheets guiding you to live an abundant life.

The Rental Property 90 Day Action Plan (eBook) by Kendra Barnes $19.00 A step-by-step guide that walks you through everything you need to do to prepare for buying your first rental.
Money Mindset
6 Steps to Heal Your Money Story

(eCourse) by Rebecca Brumfield $20.00




Overcome career burn out and bust through the limiting beliefs that cause stress, burnout, and stagnation. 

11 Ways Minimalism Saves You Money

(Workbook) by Sarah Warth $5.99




Minimalism tends to correlate to less stuff, more money, and less stress. May this workbook provide encouragement and valuable tips along your journey.

Mastering Your Money Mindset

(Workbook) by Stacie Heaps $12.00




Change your financial outlook from one of scarcity to one of abundance and prosperity.

Money Mindset for Businesses

(Workbook) by Lindsay Maloney $27.00




Earn the money you deserve in your business with this training workbook.

Secrets of a Six Figure Freelancer

(eBook) by Kate Bagoy $16.00




Get simple step-by-step advice from a Forbes Councils Coach for starting a freelance, coaching or consulting business and getting to your first $10K month.

The 28 Day Manifesting Challenge

(eCourse) by Dr Nikki Ramskill $130.00




Manifest more abundance into your life by asking for help from the universe with practical steps, not wishful thinking. If you're finding it hard to keep going, why not try it and see how you can change your life.

The Beginner's Guide to Creating Financial Wellness

(eBook) by Danielle Davis $19.00

An entire guide filled with simple tools and resources to help you get unstuck and release the fear and anxiety you have around your money.
Plan for the Future
Baby on a Budget

(eCourse) by Erin Artfitch $49.00




The foolproof strategies you need to help parents prepare for and raise a baby without going broke.

How Couples Can Get on the Same Page Financially

(eCourse) by His & Her Money

$47.00




Learn how to stop having money fights and finally get on the same page financially with your spouse.

Master Money Makeover

(eCourse) by Carolyn Scott-Hamilton $97.00

4 module course to help you learn how to manage and save money on an inconsistent income.
Organized Finances

(eCourse) by Christen Nicole $67.00




Helps you build a budget that enables you to build wealth and afford what you love. 

Paying for College Spreadsheet

(Workbook) by Laura Dennis $7.00




Helps you create a plan and stay on track from the freshman year of college to graduation and beyond.

Quick Start Guide to Frugal Living

(eCourse) by Melanie Nielson $47.00




Your one-stop shop to learn everything you need to know about frugal living.

Sinking Funds Simplified

(Workbook) by Kari Lorz $9.99




Saving money can be easy, much easier than you could ever imagine! This workbook will help you set up savings buckets for everything you need, but can never seem to find the money for.

Teaching Children About Money Worksheet Pack

(Printable) by Susan Santoro $6.99




14 worksheets to teach budgeting and financial responsibility to children of all ages.
Bonuses:
$25 credit to SaneBox worth $25 

Stop wasting time on email. SaneBox prioritizes what's important, lets you unsubscribe, snooze, move attachments to Dropbox and automate tedious tasks. Best of all, it works anywhere you use your email today.

14 Free Trial to Wallet Win worth $99

WalletWin helps families learn exactly what to do with money so they can get out of debt and save more, without giving up everything they love. We're passionate about helping others ditch financial stress so they can become more of who they were created to be. We do this through our podcast and WalletWin Academy membership.

Free 3 Month Subscription to Focuster worth $44.97

Focuster automatically schedules your To Do list in the empty slots in your calendar. Now you can focus on what's important, rather than the tedium of managing your schedule. Focuster updates your schedule to maximize your productivity when your calendar changes. And if you don't finish, Focuster will move it to the next available time. Recover your focus from distractions or interruptions with intelligent notifications that will remind you until you complete your top priority.

Free Laundry Machine Cleaner from MyGreenFills worth $18
This bundle is an incredible value at only $37! And it's backed by a 30-day Happiness Guarantee! But it's only available until Thursday, April 22nd, at 11:59 EST (The cart opens at 8:00 a.m. this morning)! Don't miss this opportunity! Go see for yourself all that's included in the bundle!
Only 2 Days! Don't Miss Out!
📣 P.S. If you get there before 8:00 a.m., add your email to the waitlist, and you'll be notified the minute the cart opens up!
Get The Master Your Money Super Bundle Now!