*This post may contain affiliate links. I only share opportunities that I truly believe will benefit my readers.
Disclosure.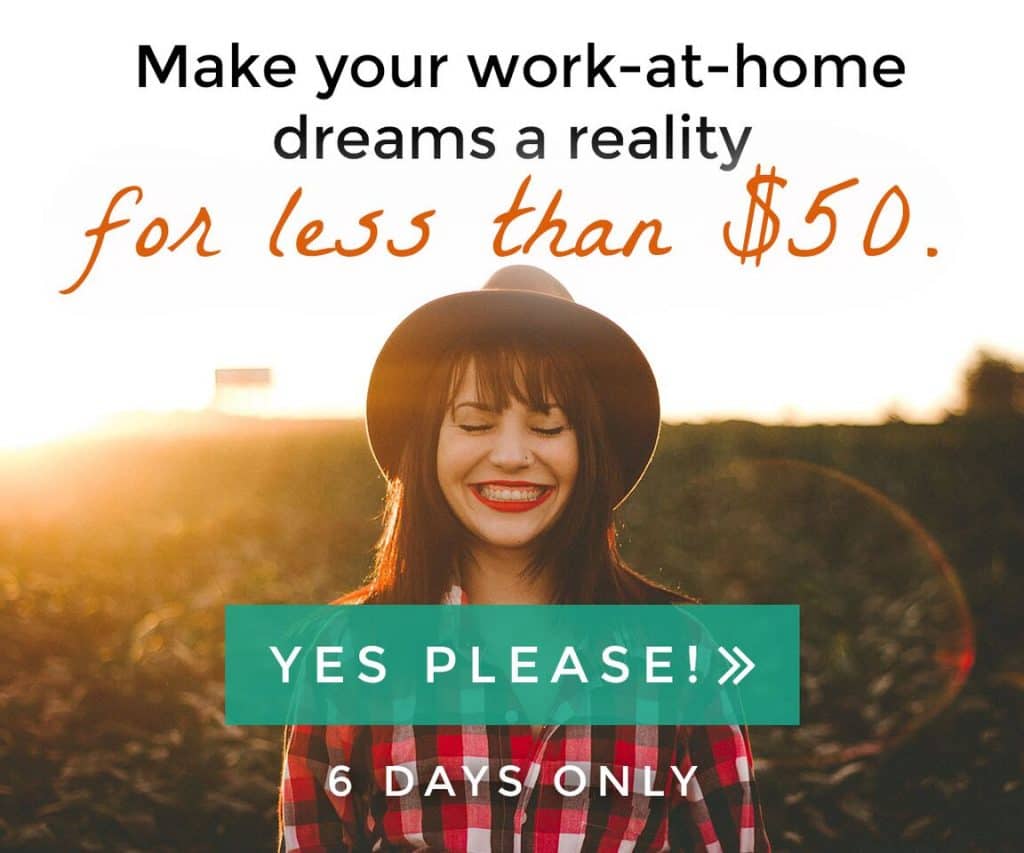 Are you looking for a work at home job? Have you been looking for a long time with no success? Or maybe you're just ready for something different – a new work at home career or home business?
The search for work from home can be overwhelming. You've got to weed through so many opportunities, being careful to dodge the ones that seem fishy.
That's why I'm so excited to share the Ultimate Work at Home Bundle with you! I'm particularly excited because my book, Jump Start Your Work at Home General Transcription Career, is included in the bundle!

The Ultimate Work at Home Bundle has 50 products (including eBooks, an audiobook, printables, and eCourses) to help you:
Find legitimate work-at-home jobs (and avoid scams!)
Run your business on a tiny budget
Avoid common work-at-home mistakes
Discover clients who'll pay you what you're worth
And so much more!
The combined value of the bundle is over $2,300, but you get EVERYTHING for 98% off. That's just $47 for over $2,300 worth of resources! There are also $320 in bonuses!
Etsy & Product Sales     
Building a Business: How to Dream, Plan, Make, Sell, and Share Your Online Shop by Maggie Whitley ($12.00)

Crafting a Business 101: The Creative Business Plan by Janet LeBlanc ($21.00)

Earn $1,000/Month on Etsy by Maria Oliveira ($197.00)

Get Retail Ready by Melissa Bolton ($37.00)

The Art of Audience Building for Etsy Sellers by The Hunting Handmade Collective ($4.99)

The Etsy Seller's Simple Guide to Taxes: A Time and Money Saving Guide for Makers and Crafters by Sarah Korhnak ($12.00)
Freelancing     
Freelance Design Freedom by Jessica Safko ($29.00)

Hell to Pay 2: A Freelancer's Guide to Money, Taxes, and More! by Clients From Hell ($38.00)

How to Get Great Freelance Clients by Carol Tice ($9.99)

Services Superhero: Create a Set of Services That Clients LITERALLY Can't Say No To by Lizzie Davey ($79.00)

The Business of Writing & Editing Deluxe Package: Start Your Career as a Freelance Writer/Editor TODAY by Sagan Morrow ($39.00)
General     
Overcoming Imposter Syndrome: Ten Strategies To Stop Feeling Like a Fraud at Work by Elizabeth Harrin ($12.15)

The Accidental Entrepreneur: The Juicy Bits by Janine Allis ($9.99)

Jeff Goin's Work at Home Package by Jeff Goins ($13.49)

The Official Master Your Game® Planner Pack by Nereeda McInnes ($29.95)

The Work-at-Home Survival Guide by Caitlin Pyle ($17.00)
Getting Things Done     
More in Less: 21 Productivity Hacks for Creatives by Hilary Sutton ($2.99)

Project Management for Creatives: Principles to Simplify and Streamline Creative Work by Sarah Parsons ($9.99)

Tell Your Time: How to Manage Your Schedule so You Can Live Free by Amy Lynn Andrews ($2.99)

The Personal Productivity Handbook: A Step-by-Step Program to Supercharge Your Productivity by Paul Minors ($19.00)

Work Less, Spend Less by Loralee Hutton ($17.00)
Growing a Business     
Brand Your Small Business: Create a Brand That Connects! by Emma Bates ($29.00)

Business ePlanner: Big Business Planning for Small Businesses by Martin Jakubec ($15.00)

Busy Moms Building: 12 Steps to Running Your Own Online Business for Busy Moms by Monica Froese ($147.00)

FindMe: An SEO Cookbook For Busy Entrepreneur by Rachel Brenke ($129.00)

How to Network Like a Boss from Home by Amy Bellgardt ($29.97)

How to Succeed in 12 Months: Creating a Life You Love by Serena Star-Leonard ($15.19)

Lead Generation Academy: A System to Attract the RIGHT Clients by Cloris Kylie ($297.00)

Mom Boss on a Budget by Holly Chubb ($79.00)

Promotions Planning Kit by Stephanie Morgan ($29.99)

Simple Goal Setting Strategies: Create A Plan, One Step at a Time by Christina Lerchen ($14.99)
Job Opportunities     
How to Find Real Work From Home Jobs, Plus 150 Companies That Hire! by Anna Thurman ($5.99)

How to Start a Home Cake Business in 30 Days: Turning your Cake Dreams into Reality! by Rebekah Allan ($73.65)

I Got Scammed So You Don't Have To: How to Find Legitimate Work at Home Jobs in a Scamming Economy by Bethany Mooradian ($19.99)

Jump-Start Your Work at Home General Transcription Career: The Fast and Easy Way to Get Started! by Lisa Mills ($2.99)

The Mystery Shopper Training Program: All You Ever Wanted to Know About the Best Part-Time Job  by Bethany Mooradian ($19.99)
Legal & Accounting     
Business Management Spreadsheets by Rachael Wynn ($47.00)

Conquer Cash Flow: Get Paid Faster and Increase Cash Flow by Carrie Smith ($59.00)

From Entrepreneur to CEO by Shahara Wright ($19.95)

Smart Cents: Financial and Legal Tips as You Launch and Grow Your Dream Business by Natalie Joy ($196.00)
Virtual Assistants     
E-Marketing Essentials for Virtual Assistants: How to Grow Your Business Online in Less Time and with Less Effort by Lisa Wells ($47.00)

Rockin' Virtual Assistants eCourse by

David Murphy and Sadie Roach

($247.00)

The Bootstrap VA: The Go-Getter's Guide to Becoming a Virtual Assistant, Getting and Keeping Clients, and More! by Lisa Morosky ($9.99)

VA Prep School by Lydia Senn ($45.00)
Work + Life Balance     
Balancing Diapers and Deadlines: A Busy Mom's Guide to Minimizing Decisions, Integrating Kids, and Getting More Done by Lisa Tanner ($47.00)

Live: Creating a Life You Love by Mandi Ehman ($67.00)

Stand Out: A Real World Guide to Get Clear, Find Purpose and Become the Boss of Busy by Alison Hill ($7.99)

Summer Sanity Savers for the Work-at-Home Mom: Sanity-Boosting Systems and Strategies So you Can Have a Peaceful, Productive AND Profitable Summer!   by Prerna Malik ($9.00)

The Great Life Redesign: Change How You Work, Live How You Dream and Make It Happen … Today by Caroline Cameron ($14.95)
Bonuses
Artsy Couture – $25 sitewide credit

(international shipping available, shipping fees will vary by order size)

Atlas Coffee Club – $15 credit towards a subscription

(shipping within the US only, $3.95 shipping fee required on all orders)

SquareHue – BoxNo. 3, $21 value

(shipping within the US only, $5 shipping fee required)

Businessese – Website Disclaimer Template ($99 value), digital offer

Focuster – 3 months FREE ($30 value), digital offer

ListPlanIt – 3 month Pro membership FREE ($30 value), digital offer

Meet Edgar – 1 month FREE ($75 value), digital offer;

(existing monthly subscribers can redeem a 25% off credit; existing annual subscribers at 10% off credit)

SaneBox – $25 subscription credit, digital offer
Inside the Ultimate Work at Home Bundle, you'll find a Getting Started guide, which will help you get started right away.
And there's a 30-Day Happiness Guarantee! If you're not satisfied with your work at home bundle, for any reason, you can receive a full refund.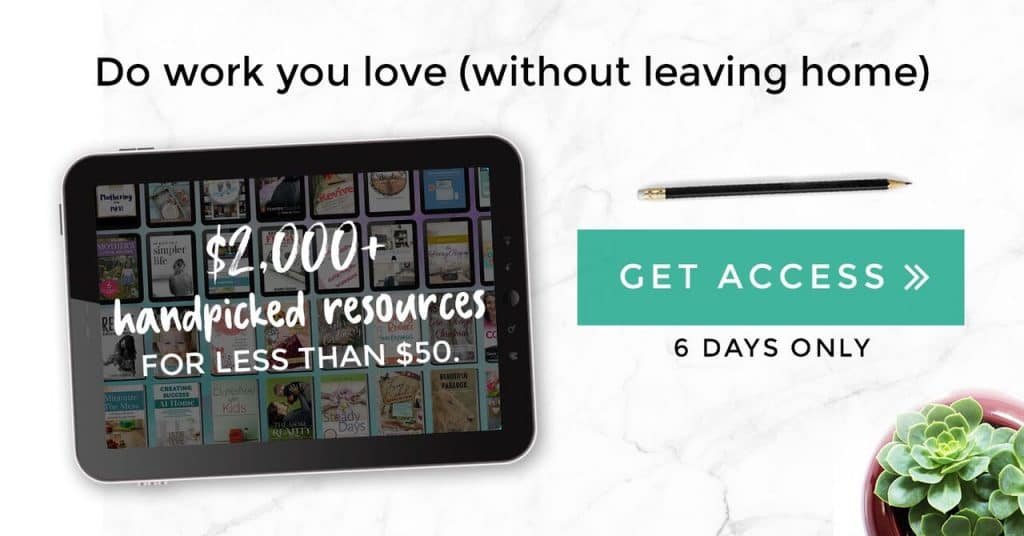 If you're serious about finding work from home or starting a home business this year, then this is a chance you don't want to miss. The bundle will only be available for six days – until Monday, June 12th at 11:59 PM EST.
I'm so excited to be a part of the Ultimate Work at Home Bundle. If you're at all curious about work at home general transcription, my book (part of the bundle) will give you all the information you need (as well as tips and resources) to get started making money from home quickly.
ATTENTION: If you're interested in this bundle, you can  still be placed on the email wait list to be notified when it returns again! Just click on the link below and enter your email address to be notified!

*****************************************************************************************************************