*This post may contain affiliate links. I only share opportunities that I truly believe will benefit my readers.
Disclosure.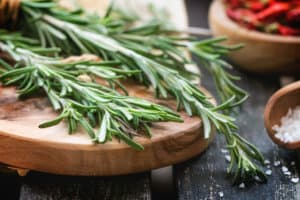 Having a herb garden and perhaps a home-based herb business (cultivating herbs for sale) has always been a fantasy of mine. I've checked books out at my local library on the subject and perused gourmet store shelves, daydreaming about how much fun it would be to grow my own herbs from home and sell them to restaurants and stores to bring in some extra money.
Check Out My Update Below!
There are only a couple of things stopping me from starting my own home-based herb business:
Number one: I don't have any sun in my yard. I live in the midst of a tall stand of pines.

Number two: I can't keep a plant alive to save myself. I am the original brown thumb.
But I cling to the fantasy. Who knows? Maybe one day I'll have a patch of sunny land, and I can give it a try. In the meantime, if you're good in the garden and have a sunny spot, this is a home business you may want to consider.
"How could such sweet and wholesome hours
Be reckoned but with herbs and flowers?"
–  Andrew Marvel
I found this great article in Mother Earth News that details how to grow delicious herbs from home! It's called How to Grow Delicious Herbs in Containers! I am salivating just reading it.
If you're interested in starting a home-based herb business or learning to grow herbs for your own enjoyment, I recommend Homegrown Herbs: A Complete Guide to Growing, Using, and Enjoying More than 100 Herbs by Tammi Hartung, which is available on Amazon.
Ultimate Bundles offers an evergreen bundle – the Herbs and Essential Oils Super Bundle – which can't be beat for value. For only $47, you get access to a huge library of resources ($800+ of handpicked resources: 16 eBooks and printables, 10 eCourses). I got my bundle, and it's awesome!
UPDATE: Since I posted this, I have started herb gardening in pots! It's not an herb farm, but it's a start! And I've enjoyed watching these grow so much!
Below are images of some of my herbs (basil, thyme, and sage) and another image with the wooden spoons I use as markers. I write the herb name on the wooden spoon and stick it in the pot beside the plant, so I don't get them confused.
I also planted some rosemary and spearmint, but they're not as  impressive, so I'll post a pic of them after they've grown some more.
I have had great success in the short month I've been growing these, thanks to the book I mentioned above – Homegrown Herbs: A Complete Guide to Growing, Using, and Enjoying More than 100 Herbs by Tammi Hartung, which is available on Amazon. I can't recommend it enough! It has step-by-step instructions, tips, and the most wonderful color pictures of everything!
For a huge list of home business ideas and extra income opportunities, see my post: 42 Best Money-Making and Extra Cash Opportunities!
If you're looking for a stackable pot, which is the type I'm using, Amazon has a very similar one here:
Here are the exact seeds I used! They're certified organic non-GMO and also available at Amazon: